2018 Telus Motorcycle Ride For Dad
Chalet du Ruisseau, 12570 rang de la Fresnière, Mirabel, J7N 2R9
Registration is from 7:00 am to 8:50 am and motorcycles go out at 9:15 am / Inscription de 7:00 à 8:50 départ de la ride à 9:15 pile
Please join us on May 26, 2018 for our ride which includes a poker run, lunch, door prizes, and much more; all while helping raise money to fight Prostate Cancer.
S'il vous plaît, joignez vous à nous le 26 mai 2018 pour notre randonnée qui comprend course de poker, lunch, prix de présence et bien plus encore; tout en aidant à recueillir des fonds pour lutter contre le cancer de la prostate.

For more information click here to send e-mail, or go to http://RideForDad.ca.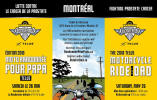 http://www.ridefordad.ca/montreal/?lang=fr
Save
Save